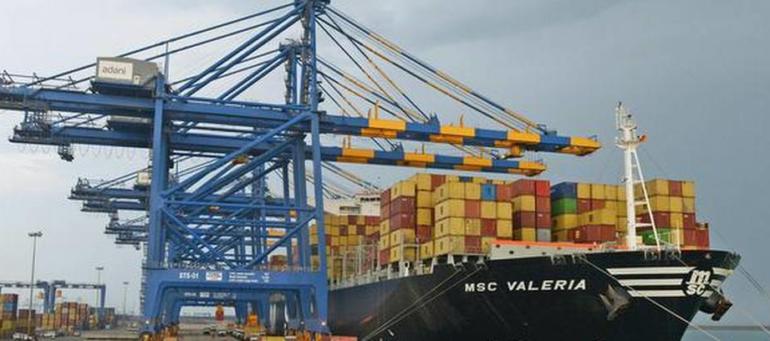 Adani Ports net profit declines 38% on higher mark to market loss
Adani Ports and Special Economic Zone Ltd's (APSEZ) net profit fell 38.10 per cent to Rs 614.23 crore in the July-September quarter of this fiscal against Rs 992.37 crore in the second quarter of FY18 as the company booked a higher mark to market loss on its foreign currency loans owing to weak rupee.
The country's biggest private port operating firm's total income declined marginally to Rs 2,922.32 crore (including other income of Rs 314.31 crore) from Rs 2,962.12 crore a year earlier.
"Rupee depreciated 5 per cent in Q1FY19 and 6 per cent in Q2FY19. Thus, we have provided a mark to market loss of Rs 953 crore in H1FY19 compared to a mark to market loss of Rs 47 crore in H1FY18 on our foreign currency loans. This has resulted in lower profit before tax and profit after tax,'' the company said in a statement.
The financial performance overshadowed a strong operational performance in which APSEZ had handled over 100 million tonnes (mt) of cargo – first since it started operations – across ten ports/terminals during the first half of FY19. Cargo volumes grew 22 per cent in the second quarter and 15 per cent in the first half of this fiscal.
Mundra – the flagship port of APSEZ – posted 12 per cent growth in H1FY19, Hazira 23 per cent, Dahej 36 per cent, Tuna 68 per cent and Kattupalli 22 per cent.
APSEZ did not earn any revenue from SEZ port-led development in H1FY19 compared with Rs 1,165 crore in H1FY18. "If we exclude SEZ port-led development revenue earned in H1FY18, consolidated revenue has grown by 17 per cent in H1FY19 to Rs 5,019 crore from Rs 4,286 crore in H1FY18.
"Amid fears of trade war and its impact on Indian cargo, we have been able to achieve a record cargo throughput of 100 mt in H1FY19. Our string of ports across the coastline of India, strategy to diversify cargo and ensure that all our ports handle all types of cargo have helped us achieve this milestone," Karan Adani, Chief Executive Officer of APSEZ, said.
"By its sheer nature, Indian economy will continue to grow in spite of the recent rupee depreciation and oil price hike shocks to the economy. We do not foresee any impact on Indian imports and exports. We are truly on course towards achieving 200 mt of cargo volume in FY19," he added.