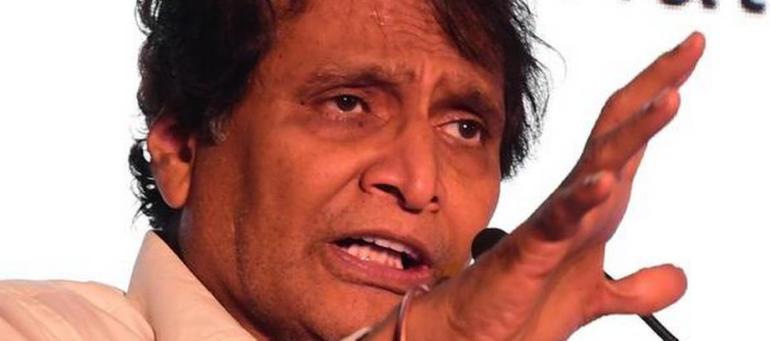 'Management must ensure private airlines function properly'
The government does not seem to be in favour of extending a helping hand to cash-strapped Jet Airways.
Suresh Prabhu, Minister of Civil Aviation, said: "For a private airline it is for the board of directors to make sure it functions properly and it has to take measures depending on market conditions that prevail from time to time." He was speaking on the sidelines of a function to launch AirSewa 2.0.
Earlier, the Minister launched the upgraded version of AirSewa 2.0 digital platform that provides a superior user experience with enhanced functionalities. Major improvements include features such as secure sign-up and log-in with social media, chatbot for travellers support, improved grievance management including social media grievances, real-time flight status and details flight schedule.
The improved version operates through an interactive Web portal as well as through a mobile app for both Android and iOS platforms and will offer passengers a convenient and hassle-free air travel experience. The Web portal and application will help capture air travellers' feedback for policy interventions.
The Minister was clear that in a deregulated atmosphere at best what the Ministry and government can do is come out with a sector specific issue. "If there is an aviation turbine fuel issue we have taken it up with the Ministry of Finance that it be got under Goods and Services Tax," the Minister said adding that the Directorate-General of Civil Aviation has been asked to do a strict safety airline of all domestic airlines. "We will not compromise on safety," Prabhu said.
The Minister declined to answer whether the government had prodded Tata Sons to bail-out the cash-strapped Jet Airways.
RN Choubey, Secretary, Civil Aviation, said Jet Airways had informed the government that it will need some more lead time to make payments to airport operators.
Last Friday, Tata Sons had clarified that any discussions with Jet Airways were "preliminary" and that no concrete "proposal" had been made.
A spokesperson of Tata Sons confirmed that the Tata Sons' board had met under the chairmanship of N Chandrasekaran but declined to get into specifics of what transpired at the meeting.
Meanwhile, the government said it will provide support to Air India. "Support which Air India needs is being provided from time to time. Without proper checks and balances no money will be given," Choubey added. The Secretary declined to get into specifics on if funds were being provided to Air India on a monthly basis.